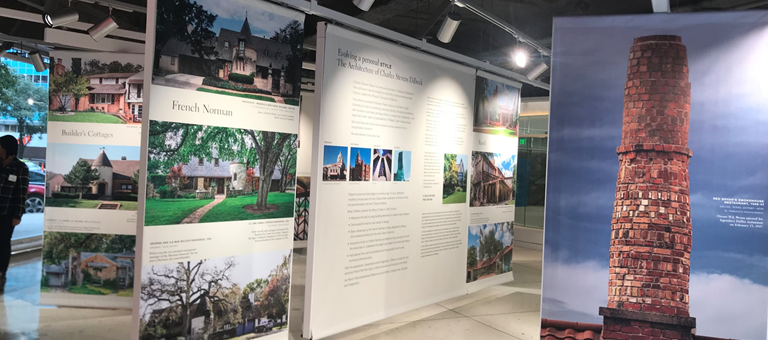 October 16, 2019
When I was involved with Dallas' Trinity River revitalization, one of the first champions to follow through on our vision of what the area could become was a developer named Monte Anderson. He bought an old hotel in West Dallas, renovated it, and reopened it as the Belmont Hotel. The view of downtown from the dining patio was stunning! I soon learned this was a building designed by the architect Charles Stevens Dilbeck. I loved the character of the building and the details that made each of the public spaces stand out.
Dilbeck's work had a bigger impact on the North Texas region than just this hotel, since he designed many homes and other commercial buildings in Dallas, Fort Worth, surrounding cities and in Tulsa. I didn't know how extensive and varied his work was, though, until I had a chance to attend a lecture about his designs. The current exhibition at ADEX — the architecture and design exchange at AIA Dallas' offices — focuses on Dilbeck and the evolution of his style. The Dilbeck Exhibition uses images shot by a creative group of local photographers. They explore the unique design features of some of Dilbeck's buildings. I was fascinated to see the details of chimneys, windows and other features. Dilbeck combined features from several different architectural styles to create something distinctly his own.
The lecture was "The Art of Architectural Photography". As it turns out, the photographer who coordinated all the photographs in this exhibition is Carolyn Brown. Carolyn worked with me many years ago, when The Dallas Plan needed some photographs of special Dallas locations. I've always enjoyed her work and her creative touches. But this lecture was the first time I'd seen her in many years. How great to reconnect in the course of hearing the stories behind the photographs documenting how this distinctive Dallas architect shaped North Texas!
Two other area architects were also part of the team that created this exhibition. Philip Henderson FAIA has a long history of impactful work in Dallas, and I recall connecting with him when The Dallas Plan was helping to support the controversial(!) idea of a trail along the abandoned MKT rail line. Philip led the Friends of the Katy Trail and was one of those most responsible for the successful attraction we enjoy today. Willis Winters FAIA has been with the City of Dallas Parks and Recreation Department since before I moved to Dallas and is retiring after a long stint as Director. In that role, he championed Fair Park, White Rock Lake and many, many other gems throughout the city. Willis and I worked on many projects together since so many key parks were at the heart of The Dallas Plan's major recommendations. Willis is writing a book on Dilbeck, Carolyn is providing the photographs for it and thus the origins of the exhibition, which Philip curated.
Dilbeck's style exemplifies some of the best aspects of post-war architectural design in this part of the country. It uses native stone and metal reminiscent of a ranch setting. There are patios and balconies for spending time outdoors in the spring and fall, with shade for hot Texas summers, and there are also fireplace nooks, dramatic entries and impressive dining rooms for indoor entertaining in the winter. North Texas shapes these buildings. Their features reflect the nature and climate of this area. Dilbeck's designs are not basic ranch houses, though. He blends several fashionable European styles to create buildings that communicate the opulence of more established communities. These buildings were built at a time when the North Texas region was making a dramatic transition from a group of fairly small, agriculture-focused communities to a major urban area with important national and international aerospace, finance and technology businesses. Dilbeck's designs make a statement about their place and time, and the people who lived in this particular place at that particular time. They celebrate the new levels of wealth and leadership, while being shaped by the natural character of the area. They communicate the optimistic postwar outlook of a place and people who were on top of the world and expect new ideas and technologies to bring an even better future.
Of course, part of that unbridled optimism about new technologies and methods led to a development pattern based on the assumption that everyone would always want to drive a car everywhere. That's one part of the post-war urban development pattern that has had big unintended negative consequences. These postwar values shaped this growing region for decades and created the low-density, auto-oriented character visible in many areas even today. That place shaped the choices and lifestyles of generations of people and businesses here in the second half of the 20th century.
In the past few decades, many people and organizations in North Texas have worked to undo some of the negative aspects of the post-war boom. Philip and Willis have both made important contributions to the updated, people-oriented character experienced today in many North Texas parks, neighborhoods and communities. Philip's persistence led to a Katy Trail that has disproved the fears people expressed when The Dallas Plan and others talked about it before it opened — top of this list being that no one will ever use a trail in the Dallas heat! Willis has shaped this community in many ways because of his appreciation for parks, recreation, nature and open space as well as his architectural expertise. And Carolyn has communicated the character of this region as it has changed over time. These leaders have changed the shape of this region in ways that are already opening up new possibilities for the people living here now and those who will come in the future.
The exhibit at ADEX is lovely — I definitely recommend it! And the other lectures should be as interesting as this one was. Check them out!